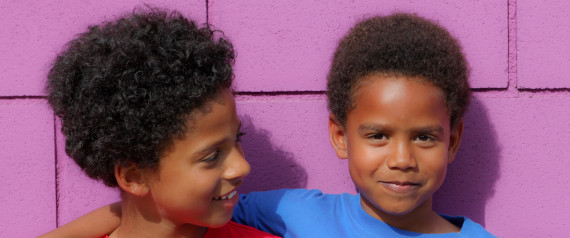 African-American children's books are a growing area of publishing, but we need even more selections for this burgeoning market — particularly black children's books that celebrate black kids' hair. Why? A harrowing experience was inflicted on my son when we tried to access basic black children's hair care services — at a black establishment.
The day that it happened had been, up until that moment, a fairly happy day.  I had left my husband at home to work on our shoe line and had gone to Queens, NY with our two boys to spend time with their grandparents. My parents commented that my three-year-old boy, Jojo, could use a haircut, so my father and I left my then six-month-old baby boy, Miles, at home with my mother and went out in search of a barber shop and professional hair care for my black child.
We entered a shop that looked reasonably empty. The sound of reggae music filled the air and Jamaican flags decorated the walls. My family is of Ghanaian origin, and we know Jamaicans are our "brethren," so we thought that we would feel at home.
Click HERE to read the full article
Healthy Scalp, Healthy Locs
Nyesha Samuel, Master Loctician/Publisher for healthylocsblog.com