This is a great article & video on urban farming.  My family belongs to a food Co Op in Atlanta,GA so we know the importance of healthy eating and living.  You should definitely support Will Allen if you live in the Milwaukee, WI area. If not, find out who your local farmers are or your local food Co Op and support them.  Leave a comment and let me know what you think 🙂
Nyesha Samuel, Publisher/Master Loctician for healthylocsblog.com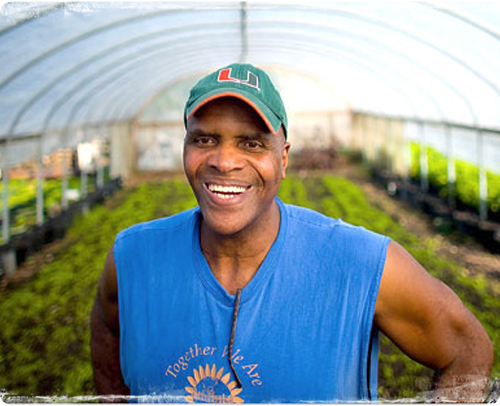 In 1920, African-Americans operated more than 900,000 farms across the nation. Today, there are only about 18,000 Black farmers. One person who hopes to change that number is Will Allen (pictured below), who is the co-author of the newly released book, "The Good Food Revolution: Growing Healthy Food, People, and Communities".
A farmer himself, Allen says tilling the land to grow healthy foods is one way to combat the obesity problem among African Americans, and he hopes to inspire more people to trade in their designer garb and corner offices for overalls and a plot of land to grow fresh produce in urban areas. He made the move nearly two decades ago.
In 1993, he cashed out a small retirement package from his sales position at Procter & Gamble and purchased a plot of land filled with dilapidated greenhouses not too far from Milwaukee's largest public housing project. Since then, he has developed one of the nation's preeminent urban farms on a little less than two acres of lands.
Click below to read the full article;
Urban Oasis: Farming To Fight Black Obesity
Click below to watch the video;